Quite a gem has scome from the shores of the Baltic sea again.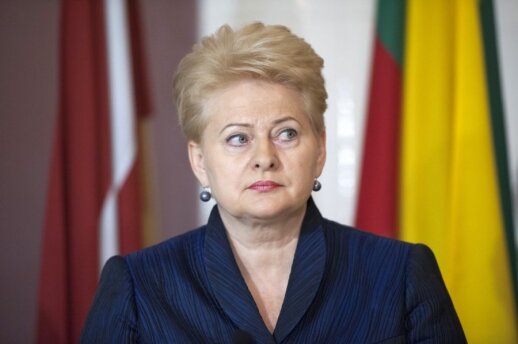 Dalia Grybauskaitė. AFP/Scanpix; source.
Yesterday
Dalia Grybauskaitė
, President of Lithuania, gave
an interview
to some foreign journalists in Kaunas, Lithuanian second largest city.
We had conscription [military service] before 2008, and we thought that it will never be necessary. But with a changing geopolitical situation around our borders, we realized that the threats are very real. The threats are real for our whole region, all Baltic states, and our neighbourhood has become less predictable and more aggressive, I mean Russia...
Do you really think Dalia, who got her PhD in 1988 in Moscow and had quite a good carriere during the USSR, being a member of the Communist party since 1983 till 1990, does not know dirty games with bears cannot have good end? The journalists of Delfi quoting her words say "the reintroduction of conscription
a clear message that, if attacked, Lithuania would not surrender and would defend itself
". Lithuania goes strong, yet, frankly speaking, I doubt if the things go really bad the fact of surrendering or not surrendering of Lithuania to anyone will be somehow noticeable on the map of the painfully dying world.
We know the procedures in NATO. The rapid reaction forces can start to work at least from 72 hours. But our nations in the Baltics are quite small. We need to protect ourselves at least for these 72 or more hours...
I doubt the NATO rapid reacion forces can be effective in setting up brains of crazy politicians. Wanna protect yourself from Russia? Recipe is quite simple: don't mess with it. Be a good neighbour yourself.
Already we are in the front line, and the first stage of confrontation is taking place: I mean the informational war, propaganda and cyber attacks. So we are already under attack. Will it be extended to conventional confrontation? Nobody knows. But already now we need to defend ourselves from this aggressive behaviour.
But sometimes I desperately think it's useless to call for some common sense when it's high time to call for some decent psychiatrist.